There are a lot of companies that remanufacture engines. Some start out with great expectations, only to be bogged by poor work man ship or shoddy parts , and some by their own success . When you purchase a remanufactured engine costing the price of a used small car, they all talk a good story. But the real test is if you do have a problem, is it going to be resolved to both parties satisfaction?
My dilemma , coming back from a great week end at Barnwell mountain Tx. Camping , off roading, and enjoying the fellow ship of the campfire it happened. Pulled in to top off the fuel before getting to Dallas the oil light came on. To make a long story short. One of the cam shaft bearings worked its way out. This caused low oil pressure at warm idle.
After several recommendations and opinions for the problem, I decided to purchase a remanufactured engine from Great Plains Rovers in Goldsby Ok. I liked the fact that they use ductile flanged liners , ARP studs instead of stretch bolts, and a three year warranty. I also chose to go with the H180 performance camshaft from Turner Engineering. The engine ran great, with a slight increase in gas milage. Also off roading I could see an improvement with less throttle on some obstacles.
Ok….. here we are two and a half years later…… seeing it is time for my hand dandy smog check …. get up head for my local Shell station with all my insurance card and documents handy. As I pull in the "Check Engine" light comes on. I know this will not pass. So I head over to North Texas British to have Allen take a look. Miss fire on one cylinder. Other than that nothing looks out of sorts, so I leave the G4 to let the Doctor do his thing. It turns out that one sleeve was a zillionth of a millimeter low. It looked like the sleeve just hadn't made it all the way down into place initially. Then when the block was planed the top to the liner was shaved off. Then as the engine ran the sleeve settled down to the correct bottom depth. .Allowing the head gasket to leak towards the inside of the engine. And… SCARR fast approaching.
And then WOW ! a nice email from Mike Billingsley "Yes sir, it is absolutely covered. We are preparing you another engine now to replace." "Please accept my sincerest apology and know that I will make it right." "we've tweaked our process numerous times after building your first engine to increase efficiency and improve the product." True to his word , I got the new engine, and thanks to North Texas British it was installed and ready for SCARR 2013.
There may be cheeper engines , and cheeper ways to repair them , But, in the chance there is a problem you want a stand up company that is going to take care of you, and in that light I recommend GREAT PLAINS ROVER. for remanufactured Land Rover engines.
Ok, finally got more pictures up laded .
SCARR 2013
SCARR 2013 10th annual South Central Rover Ralley.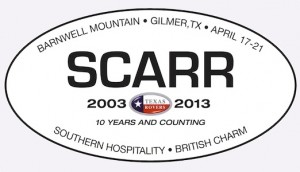 It is almost that time again. SCARR 2013 will be here before we know it. I still have to get the Casita out of storage, Load things, and what ever. The G4 is doing well with it's new engine . Personally I am ready, but I better git my self in gear if I am going to make it. I do have peanut butter, so I won't starve to death.
Looks like possibility of rain Wend. and Thurs. That is great, will settle the dust and give the trails some personality . I need to look at getting another pair of Wellington boots. After the first SCARR I carry Rain gear in the Disco all the time….
Here are the pictures from Tech day at North Texas British… Thanks Allen for the use of your shop and lifts.
SCARR 2013
SCARR 2013 10th annual South Central Rover Ralley.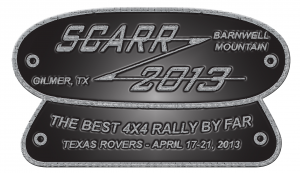 I am getting excited about up coming SCARR (April 17-21, 2013 ). If any one is on the edge about bringing their Rover out for an exciting week end . It is not too late, Late registration is still open. Remember the fee includes four days of park use and three nights of camping…
Things are coming together, right down to fire wood and extra porta potties in strategic places. I had a peek at the menu …. great…. There are lots of good raffle prizes for the drawing. Bill Burke will be on hand for training , and there is plenty of fire wood for evening camp fires and comrade
See ya'll there
Jim E