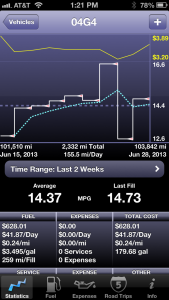 Had a good trip, The pumpkin ran good up and back. Averaged 14.37 miles per gallon. Lot better than the 11.14 mpg since truck was new. (and includes a lot of around town driving).
We got to visit with Ella our grand daughter if you can't tell from all the previous post. She is a very happy baby. I didn't see any thing bother her. Oh ya! got to see her parents too,
We really enjoyed our visit, it was just too short. Time just flew by. Did get time to smoke a pork but, and some ribs on their new Green Egg. Both were great, but I really liked the ribs.
Now we back to our quite and talking about what the next adventure will be